Brussels
If you're planning a trip to Brussels the first things you will want to read about are the city's top attractions, where to stay, the general prices of hotels and restaurants, among other useful information. To make it as easy as possible for you, Civitatis offers you this travel guide of Brussels and the country's nearby cities so you make the most of your holidays or weekend away.
If you like this guide, don't forget to add it to your Favourites and share it with your friends.
Why visit Brussels?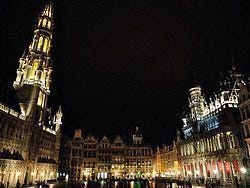 Brussels, Grand Place lit up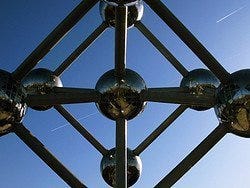 The symmetry of the Atomium
You'd like to discover Brussels because you want to try the best chocolate and beer in the world, because you've found a very cheap plane ticket, you've heard great things about the city, you are a fan of moules-frites (mussels and chips) or simply because you have always wanted to see the city's most important symbol: The Manneken Piss.
Brussels is the capital of Belgium and also considered the principal city of the European Union. It has all the characteristics of a metropolis, but at the same time is a small tranquil city. It has extremely modern neighborhoods that contrast with its renowned Art Deco buildings. The streets of Brussels are packed with charm and history and make for a great getaway.
Any excuse is good to organize a holiday in Brussels, whether it be for 2 days, a week or longer. This city offers good food, interesting museums and a selection of offbeat attractions, which will not leave you indifferent.
How to organize your trip?
Organizing your travel in advance is key to making the most of your holidays in Belgium's capital. We recommend reading first a little about the city's history and reading our article on the most frequently asked questions about Brussels, such as travel advice, the languages spoken in Belgium and its healthcare system. Followed by discovering Bruxelles' top attractions and museums.   
Book the hotel in advance!
If you still don't have accommodation booked, we recommend you visit our search engine where you'll find all types of hotels, hostels and apartments with the best rates guaranteed. You can get up to 75% off if you pay directly at the hotel. 
Your travel guide of Brussels
This travel guide has been written for travellers like yourself based on personal experiences and a lot of time spent in Europe's capital. We have included up to date information to help you plan your trip as well as possible, along with money-saving tips and reviews of the most popular attractions and galleries.
The information provided in this guide has been updated in September 2016. If you find a mistake or would like to make a suggestion, please do not hesitate to contact us.