Museum of the City of Brussels
Also known as the "Royal Museums of History and Art", these museums exhibit collections which show the evolution of the city of Brussels, charting its development from its beginnings up to today.
The Museum of the City of Brussels (Musée de la Ville in French) is located in the Grand Place, housed in the Maison du Roi (King's House). The museum was inaugurated in 1887 and features various types of information and objects that reflect the history and evolution of Brussels along the years.
What to see in the Museum of the City
There is a small exhibition with porcelain figurines and sculptures dating from the sixteenth to the eighteenth centuries on the ground floor.
The first floor houses paintings that mirror the most significant moments of the city, as well as various maps and miniatures that show the huge urban development Brussels suffered in a short matter of time.
The most entertaining and interesting part of the museum is found on the second floor where visitors will be able to see the Manneken Pis' 600 outfits. There are tiny traditional outfits from many cities around the world, including a bullfighter costume, various football kits and there is even an outfit by the Spanish designer Agatha Ruiz de la Prada.
La Maison du Roi
The King's House (Maison du Roi) was built in 1536 but was reconstructed in 1873 and had previously been restored when the building was badly hit by the bombardments of the French troops in 1695.  
In the spot of the Maison du Roi there was a wooden structure dating from the thirteenth century called "Broodhuis", meaning Bread House in Dutch. During the fifteenth century, the Duke of Brabant (soon to be Emperor Charles V) recovered the land and commissioned the construction of a large building. This first stone structure is called the Duke's House.
After the Duke of Brabant was coronated King of Spain in 1516, the Holy Roman Emperor had the building reconstructed in a Gothic style (in 1536) and was called La Maison du Roi (The King's House), which was then later restored in a neo-Gothic style after it was bombarded by the French troops.
An enjoyable visit
The Museum of the City in Brussels is the ideal place to discover Brussels' history in a visual and enjoyable way. It is definitely worthwhile exploring the museum's second floor, if only for the collection of The Manneken Pis' small outfits.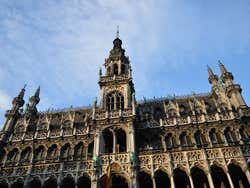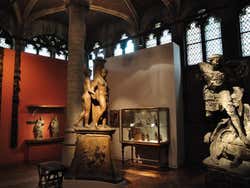 Schedule
Tuesday to Sunday: 10 am - 5 pm
Closed: Monday, 1 January, 1 May, 1 November, 11 November and 25 December.
Price
Adults: € 10 (US$ 10.80)
Students: € 4 (US$ 4.30)
Over 65s: € 6 (US$ 6.50)
Free with the Brussels Card and under 18s.
Transport
Metro: Bourse, lines 3 and 4.
Tram: Bourse, lines 31, 32 and 33.
Bus: Bourse, lines 48 and 95; Gare Centrale, lines 38, 65, 71 and 86.