During the day, the metro and trams allow you to access any point in the city, but at night the night buses are often the best mode of transport.
Even though the local buses in Brussels are sometimes the only way of getting to some parts of town, for tourists this means of transport likely isn't worthwhile.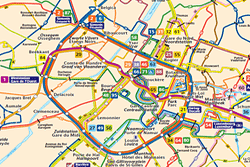 Brussels Transport Map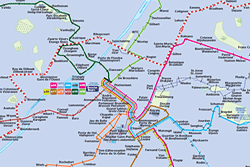 Brussels Noctis Map
Lines, timetable and frequency
The Brussels Metro and the various tram lines in the capital should be enough to get you to all the monuments and museums you want to visit. If during your stay in Brussels you would like to go out clubbing, we recommend the STIB system of night buses, which run every Friday and Saturday.
If you would like to know more about the bus routes in Brussels, you can find more information on each line, the bus timetables and frequency on the official STIB website:
Night buses (Noctis)
Brussels, like other large cities, has night buses that run on the weekends. These are called Noctis and run on Friday and Saturday from 12:15 am (midnight) until 3 am and leave every 30 minutes from La Bourse. Keep in mind that you will need to either take a taxi or stay out until 6 am (first metro) if you want to stay out after 3 am.
The numerous night buses cover most of the main streets of Brussels and another perk is that a normal STIB one-journey ticket or travel card is valid on these types of buses.
Fares
If you would like to check out the prices of one-journey tickets or the various travel cards, check out the following article on the Price of public transport in Brussels.