Manneken Pis
The Manneken Pis was designed in 1388 and is one of the most representative and loved symbols of Brussels. The Manneken Pis is a small bronze statue that measures 50 cm and represents a small boy without any clothes urinating into a fountain's basin. It is located in the old part of town, between rue de L'Étuve and rue Chene, next to the Grand Place. 
Given the importance of the statue, many armed forces have tried to steal it throughout the years, until an ex-convict was finally able to do so. The Belgian inhabitants were extremely worried until a few years later, in 1619, a copy was put in the same place and has been maintained there to the present day.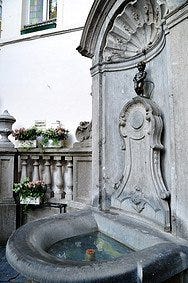 Manneken Pis
Legends behind the Manneken Pis
Throughout the years, many legends have surrounded this tiny, surprising statue. These are the most famous:
The little boy put out a fire with his tinkle, thus saving the city from being burnt down.
It is also believed that during a battle in Ransbeke the two-year old Lord (Duke Godfrey III of Leuven) was hung from a tree in a basket to bring his troops luck while they fought against the enemies and from there he urinated on the enemy troops and they lost the battle.
According to another legend, the son of a noble abandoned a procession to urinate on the wall of a witch's house. Angered by his action, the witch transformed him into a statue.
Oufits of the Manneken Pis
In 1698, a governor gave the little statue its first tunic. It was the first of the 650 outfits the Manneken Pis owns currently. These costumes have been given by the various presidents that have visited Brussels. In the Musée de la Ville, housed in La Maison du Roi, visitors can discover all the little hero's wardrobe including regional dresses, a bullfighter or Elvis costume.
In certain occasions it's the Town Hall that dresses the Manneken Pis up.
The symbol of Brussels
The Manneken Pis has become of the most important landmarks in Brussels. Other representative attractions include the Atomium and the Grand Place. We believe that it is definitely worthwhile visiting, as well as taking a photo.
Very close to the Grand Place visitors can also find the Manneken Pis's "sister", Jeanneke Pis. A female version of the little boy urinating, which is a lot less famous but also curious to see.
Location
Between the rue de L'Étuve and rue Chene, on the south side of the Grand Place
Transport
Metro: Bourse and Gare Centrale, líneas 1 and 5.
Tram: Anneessens, lines 3, 4, 31, 32 and 33.
Bus: 29, 34, 47, 48, 60, 63, 65, 66, 71, 95 and 96.

Map
Hotels nearby