Cinquantenaire in Brussels
From an architectural point of view, the Palace of Cinquantenaire is one of the most representative buildings of Brussels.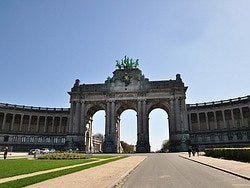 Parc du Cinquantenaire and the central arch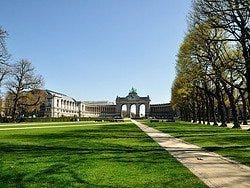 Parc du Cinquantenaire
The Palace is located on the east of the park Cinquantenaire (Parc du Cinquantenaire) and it is easily recognisable because it houses a triumphal arch with a quadriga made of bronze in the center of the arch, very similar to Berlin's Brandenburg Gate.
The palace and arch were built to commemorate the fiftieth anniversary of the independent state of Belgium. Presently, the building houses three museums: Autoworld, the Royal Military Museum and the Cinquantenaire Museum.
Parc du Cinquantenaire
The park of the Cinquantenaire (Parc du Cinquantenaire) is the second most important urban park in Brussels. Since it is so close to the European quarter, it is usually visited at lunch time by the employees of the European Union.
This park is usually a little less lively than the Brussels Park (Parc de Bruxelles) but, if you visit the area, you can go for a short walk around and check out its numerous statues.