Famous for having the largest collection of dinosaurs in Europe, the Muesum of Natural Sciences aims to educate about nature and evolution.
The Natural Sciences Museum (Institut Royal des Sciences Naturelles) in Brussels was opened to show its visitors the natural history and the origin of the species. It is located very near the European Parliament.
Inside the Museum
The Natural Sciences Museum's dinosaur exhibition is renowned worldwide. It has the largest hall dedicated solely to dinosaurs in Europe containing, among others, fossilized Iguanodon skeletons which were discovered in 1878 in a coal mine in Bernissart, in the south of Belgium.
The area which is dedicated to the evolution of species features over 600 fossils and 400 animals to show the changes the creatures have suffered to adapt to changes in the climate.
The museum's collection includes many of the types of animals which we can find to this day, like bears, lizards, foxes or elephants, all of which are stuffed. The collection also contains examples of animals that have been extinct for thousands of years.
Only if you want to see dinosaurs
Europe's largest exhibition on dinosaurs of the Natural Sciences Museum is truly fascinating. If you have a passion for these prehistoric animals, we definitely recommend this museum. If on the other hand, you are not too keen on natural sciences and natural history, we suggest visiting another of Brussels' top museums.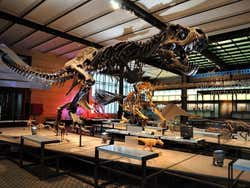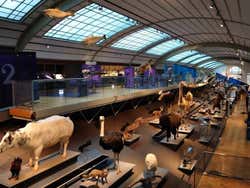 Schedule
Tuesday to Friday: 9:30 am - 5 pm.
Saturday and Sunday: 10 am – 6 pm.
Closed: Monday, 1 January, 1 May and 25 December.
Price
Adults: € 13 (US$ 14)
Students and over 65s: € 10 (US$ 10.80)
Children 4-17: € 5 (US$ 5.40)
Children under 4: Free
Free entry with the Brussels Card.
Transport
Metro closest: Trone, lines 2 and 6; Schuman, lines 1 and 5.
Bus: Museum, lines 38 and 40.