The BELvue Museum is dedicated to democracy and recounts the history of Belgium from the revolution in 1830 until the creation of the current federal state in 1993.
The museum is located in one of the most impressive parts of Brussels, next to the Royal Palace, above the ruins of the Palace of Coudenberg. 
Although Belgium is a relatively young country, it has had a very intense history, and the museum also dedicates a great part to democracy in the country.
Before it was transformed into the BELvue Museum, the magnificent building was a luxury hotel that later became the residence for several members of the royal family.
Collection
The BELvue Museum houses over 1.500 documents, photographs and documentaries, as well as other items that reflect the key moments in the country's past.
The fight for universal suffrage, popular uprisings, the beginning of the European Institutions, the Industrial Revolution or World War I and World War II are some of the most important topics shown in the nine halls of this museum.
To discover Belgium's history
The BELvue Museum houses a very organized and complete collection that reflects the most important moments in the country's history. In our opinion it is a very enjoyable visit, but you'll need a few hours to discover it.
The access to the remains of the Palace of Coudenberg, destroyed in a fire in 1731, is also through the BELvue Museum.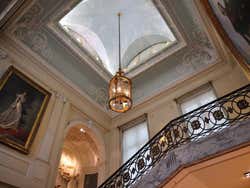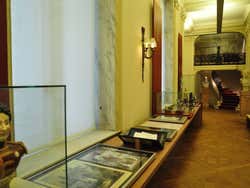 Schedule
Tuesday to Friday: 9.30 am - 5 pm.
Saturday and Sunday: 10 am – 6 pm.
Closed: Monday, 1 January and 25 December.
24 and 31 December: 9:30 am – 4 pm.
Price
Adults: € 10 (US$ 10.80).
Seniors (aged over 65) and groups of over 15 people: € 8 (US$ 8.60)
Young people (aged 18 – 25) and unemployed: € 5 (US$ 5.40)
Young people (less than 18): free entry.
Free entry with the Brussels Card.
Transport
Metro: Parc, lines 1 and 5.
Tram: Palais, lines 92 and 94.
Bus: Royale (lines 38 and 71) or Ducale (lines 21, 27, 71 and 95).