Eglise Notre Dame du Sablon
Built in a Gothic style similar to the Cathedral, Notre Dame du Sablon has been a site of pilgimage since the middle ages.
L'église (Church) Notre Dame du Sablon is a remarkable Late Gothic church, founded during the fifteenth century, although on the same site there was once a small chapel founded in 1304 and commissioned by the archers of the city. 
Built in the same style as the Cathedral of St Michael and St Gudula, and found in the upper town of Brussels and is one of the most beautiful in Belgium.
Inside Notre Dame du Sablon
The interior of the church is pretty, but plainly decorated. It looks very much like the Brussels Cathedral but slightly smaller. One of the church's highlights is the wooden pulpit made in 1697.
The central nave has beautiful natural light which streams from eleven stained-glass windows, each measuring 49 ft (15 meters) long. It is precisely the numerous stained-glass windows that encircle and light up the altar that draws the attention of the church's visitors.
According to legend...
A young girl from Antwerp had a vision that the Virgin Mary asked her to take her image to Brussels. The girl took a boat to the capital and handed a statue of the Virgin to the archer's temple.
The chapel quickly became a place of pilgrimage and was enlarged.
One of the most beautiful churches in Brussels
If you want to discover some of the Belgian capital's temples, l'église Notre Dame du Sablon is among the best in the city along with Brussels Cathedral and the Basilica of the Sacred Heart.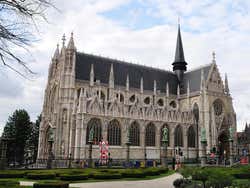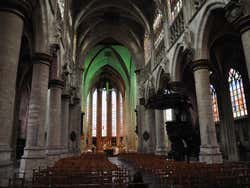 Schedule
From Monday – Friday: 9 am – 6:30 pm
Saturday and Sunday: 10 am – 7 pm