Belgium Royal Museums of Fine Arts
Over 2,000 paintings, drawings and sculptures that date from the befinning of the 15th century until the present day fill these four museums.
The Royal Museums of Fine Arts of Belgium (Les Musées Royaux des Beaux-Arts de Belgique in French) are an association of six art centres, which are considered the best in Belgium.
Located in the heart of Brussels, the Museum of Ancient Art and the Museum of Modern Art are the most renowned and most visited museums. The Constantin Meunier Museum and the Antoine Wiertz Museum are much smaller and are situated in another part of town. Lastly, the Magritte Museum and the Fin-de-Siècle Museum are adjacent to the main building and are a lot more recent.
Museum of Ancient Art
Opened in 1799, the Museum of Ancient Art makes up the largest part of the Royal Museums of Fine Arts of Belgium. It features works of arts from the fifteenth to the eighteenth centuries. This museum is particularly famous thanks to its vast and remarkable collection of Flemish paintings, as well as hundreds of works of art by old masters such as Van Dyck or Rubens.
It is worth highlighting its location; a remarkable neo-classical building from the end of the nineteenth century by the architect Alphonse Balat.
Museum of Modern Art
The Museum of Modern Art features works of art from the nineteenth century until the present day. Its collection of fine art is very varied and some of the best paintings are by the Surrealist Belgian artists. The layout of the museum is rather curious with eight of its floors ("half floors") underground.
Although it is a "Modern Art" museum, the pictures, sculptures and other things in this museum are not as abstract as is the case in many other Modern Art museums.
A good museum
These museums are worth exploring if you have enough time or are an art fan. Otherwise, if you are in Brussels only for a weekend, we suggest discovering the city's streets and the Grand Place or other museums.
It will take you at least two hours to delve into the Royal Museums of Fine Arts of Belgium (especially the Museum of Ancient Art or the Museum of Modern Art).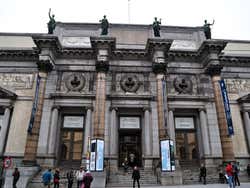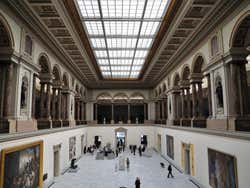 Schedule
From Tuesday until Friday: 10 am – 5 pm.
Saturday and Sunday: 11 am – 6 pm.
Closed: Monday, 1 January, second Thursday of January, 1 May, 1 November, 11 November and 25 December.
N.B.: On the 24th and 31st of December the museums close at 2 pm.
Price
Adults: €8 (combined entrance with the Magritte Museum €13)
Young people (aged 6- 26): €2
Seniors (over 65): €6
Children over 6 years old: free entry.
Free entry with the Brussels Card.
The afternoon of the first Wednesday of each month: free entry.
Transport
Metro: Central Station or Park, lines 1 and 5.
Tram: Royale, lines 92 and 94.
Bus: Royale, lines 27, 38, 71 and 95.