Discover the lines, operating hours, departure times, map, and fares of the Brussels Metro, one of the most modern in Europe. Discover Brussels Metro here.
Despite being one of the most modern metros in Europe (the first opened in the seventies), Brussels Metro is very limited and gives the impression that it is old and a little unclean; although this doesn't mean that it isn't efficient. The range of some of the lines is insufficient and you will find that you will need to change means of transport regularly to get to your destination.
Lines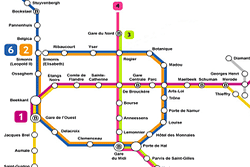 Brussels Metro map
Brussels Metro is made up of six lines, four of which are conventional and two are premetro lines (premetro are underground tramways).
In the city center two of the metro lines merge into one, this means that there are essentially only three metro lines in most parts of Brussels, which in our opinion is insufficient.
Lines 1 and 5: Run between the east and west parts of the city. You'll need to take these lines to get to Brussels Park and the Cinquantenaire.
Lines 2 and 6: These are circle lines. Line 6 runs to Brupark, the metro stop for the Atomium and Mini Europe.
Lines 3 and 4: Run between the north and south parts of Brussels. These lines are useful if you need to get from the Gare du Midi to the center.
Timetables and frequency
The "Métro de Bruxelles" opens during the weekdays at 5:30 am and closes at midnight. On Saturday, Sunday and public holidays, the metro runs from 6 am – 12 pm. Some lines like 3 and 4 run from 5 am onwards.
The frequency of the Brussels Metro depends on the time of day and the day of the week, for example, a metro runs every 6 to 10 minutes during the peak hours. After peak hours, the metro runs every 20 minutes. Keep in mind that in the city center two metro lines run on the same track so you will rarely have to wait 20 minutes for a metro.
You can check the timetable of a specific metro line on the STIB website:
Fares
If you'd like to find out more about the various travel cards and single-journey tickets available in Brussels, click here: Price of public transport in Brussels