European District in Brussels
The European Quarter is the headquarters of the main buildings of the European Union, inluding the European Parliament.
The European District of Brussels (Quartier Européen in French) comprises the headquarters of the European Parliament, the Council of Ministers and the European Commission.
Before becoming the European District, the neighbourhood was a tranquil residential area. The immense buildings are bounded by three larges green spaces to the east of the city: Parc de Bruxelles (Brussels Park), the Cinquantenaire (park and palace) and Leopold Park.
One of the most famous landmarks of the European Union is the Berlaymont building that houses the headquarters of the European Commission. The fourteen-story building was founded in 1967 and is in the shape of an X.
If you have enough time
If you are in Brussels for at least 48 hours, we recommend going to the European District and exploring the EU's emblematic architecture, which is so often shown in the news.
The European neighbourhood is extremely lively during the week and you'll often see employees eating out, or having a quick snack in the parks when the sun shines. The Place du Luxembourg is the place to be on Thursday nights when all the foreigners living in Brussels and Belgians gather to have drinks and blow off some steam.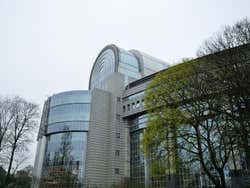 Transport
Metro: Maelbeck or Schuman, lines 1 and 5.
Tram: Maelbeek, lines 1 and 5.
Bus: Luxembourg, lines 12, 21, 22, 27, 34, 38, 54, 64, 80 and 95.