Formerly the private house and studio of the architect Victor Horta, the Horta Museum commemorates his life and work - offering the opportunity to see how one of the leading lights in Art Nouveau lived and worked.
The Horta Museum, built between 1898 and 1901, was owned and designed by the best-known Art Nouveau architect, Victor Horta.
An Art Nouveau masterpiece
The decoration and structure of the Horta Museum combine beautifully with wrought iron beams that merge with glazed tiles, mirrors, windows, marble, and wood.
While you explore the music room, the bedroom, the dining room or the guest room, you can observe the little details that Horta thought of to make the whole building work as a whole. All the rooms are connected to a central staircase that leads to glass roof that lets an almost magical light into the house.
The architect
Victor Horta is considered a key Art Nouveau architect and is one of the movement's founders, a style that is famous for integrating architecture with interior decoration, making homes into a work of art.
Horta is also responsible for designing some of the city's most beautiful buildings, like the Centre for Fine Arts (Palais des beaux-arts de Bruxelles), the Belgian Comic Strip Center or the Musical Instrument Museums.
If you have enough time
The Horta Museum is a magnificent example of an Art Nouveau building. In our opinion, the museum is definitely worthwhile visiting if you are a fan of Victor Horta or of architecture and decoration in general. However, since it is located in a residential neighborhood quite far from the city center, it might be a good idea to visit it only if you are in Brussels for over a weekend.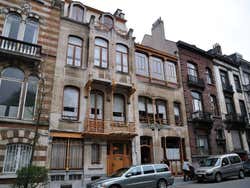 Schedule
Tuesday to Thursday: 2 pm to 5:30 pm
Saturdays and Sundays: 11 am to 5:30 pm
Closed: Mondays, 1 January, Easter Sunday, 1 May, Ascension Day, 21 July, 15 August, 1 November, 11 November and 25 December.
Price
Adults: € 12 (US$ 12.90)
Students: € 6 (US$ 6.40)
Seniors over 65 years old: € 7.50 (US$ 8.10)
Children between 6 and 18 years old: € 3.50 (US$ 3.80)