Palais de Justice, Brussels
When its construction finished in 1883, the Justice Palace was the largest building in the world, and even today it is one of the most spectacular.
Le Palais de Justice (The Palace of Justice) is one of the largest and most impressive buildings in the whole of Europe. It is currently still the most important court building in Belgium.
Due to its cheer size; 160 by 150 meters and a total ground surface of 26,000 m² and its location on the high Town of Brussels, the building is visible from most parts of the town.
The best views of Brussels are found on Poelaert Square, where the main entrance to the building is located.
History
The building was constructed between 1866 and 1883 by Joseph Poelaert, who died four years before the Palace was inaugurated. For the building to be completed, 3,000 houses had to be torn down.
At the end of World War II when the Germans were chased out of Belgium, they set fire to the Palace and the dome collapsed. The new dome is taller, narrower and very different from the original one.
Interior
If you're surprised by its exterior, the interior will dazzle you. It is definitely worthwhile exploring. Its 328 ft (100 m) tall open foyer is startling. The court has two floors and a basement, all of which are accessible to visitors.
Definitely worthwhile
The only part of Brussels that can compete with the beauty of the Palais de Justice is the Grand Place. Visiting the Palace should be a must when staying in Brussels and we highly recommend discovering its interior to see one of the main jewels of Europe. And as if you needed another reason: it is free to enter.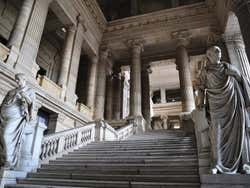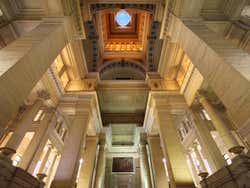 Schedule
From Monday – Friday: 8 am – 5 pm
Saturday, Sunday and public holidays: closed
Transport
Metro: Louise, lines 2 and 6.
Tram: lines 92 and 94.
From the Low part of Town, it is possible to take a lift called Ascenseur (Lift) des Marolles.