Galeries Royales Saint-Hubert
The Galeries Royales Saint-Hubert were designed in 1847 making them the first glazed shopping arcade in Europe, and today they are still among the most impressive and elegant.
The Galeries Royales Saint-Hubert (the Royal Saint-Hubert Galleries) are a covered shopping arcade in Brussels, inaugurated in 1847. It was the first glazed shopping arcade in Europe and it is still one of the most elegant. Saint-Hubert measures approximately 656 ft (200 m) long and are conveniently protected by a glass roof that lets in the sunshine, but not the frequent rain.
The Galeries are divided into three areas: Galerie de la Reine, Galerie du Roi and the Galerie des Princes.
The "Galeries" are very peaceful and packed with beautifully decorated window displays. There are numerous jewellers, important chocolate shops, exclusive boutiques, restaurants and bars and you'll also find a small theatre and cinema.
The arcade links La Monnaie (the federal opera house of Belgium) and la Grand Place, connecting the old part of town with the new part of the city.
You can get to the shopping arcade from rue du Marché aux Herbes, la rue des Bouchers or from rue de l'Ecuyer.
A well preserved masterpiece
Between the years of 1820 and 1880 seven glazed arcades were built in Brussels. Currently there are only three that survive: Galeries Saint-Hubert, the Galeries Bortier and the Northern Passage.
Since 1850 the Galeries Royales Saint-Hubert have been a favourite meeting point for artists and intellectuals and also a favourite among tourists that visit its shops or sit down for a nice warm cup of coffee.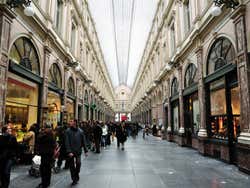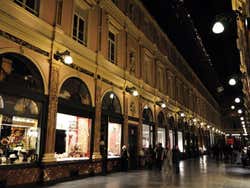 Transport
Metro: Gare Centrale, lines 1 and 5.
Tram: Bourse, lines 3, 4, 31, 32 and 33.
Bus: Arenberg, lines 29, 38, 63, 66, 71 and 86.