The Magritte Museum is in homage to one of the most important Belgian artists of all time: René Magritte. The 250 works on show display the evolution of the artist.
The Magritte Museum in Brussels features the largest collection of one of the best Belgian artists from the twentieth century. The collection is made up of 250 works of art, which are distributed in various floors and in 2.500 square meters.
The museum, opened in 2009, is housed in the Altenloh Hotel, a stunning neo-classical building in the Place Royale, beside the Royal Museums of Belgian Fine Arts.
What to see in the Magritte Museum
The façade of the neo-classical mansion from the eighteenth century contrasts with the Surrealist paintings that hang on its walls. The museum features 250 works of art of the 2.000 the artist painted.
The Magritte Museum is divided into three floors; each story is dedicated to a different period and the visit starts on the third floor, where visitors will be able to discover the first paintings of René Magritte, when he experimented with various styles: expressionism, pop-art and conceptual art.
The second floor houses the works of art less known of the artist. These are the paintings painted during World War II. Lastly, on the first floor are his best-known artwork such as The Dominion of Light and The Domain of Arnheim.
Two Magritte museums
There are two museums dedicated to this great artist. The René Magritte Museum is located in the house where the artist lived with his wife and the Magritte Museum in the city centre is full of Magritte's best work.
Important but not essential
The Magritte Museum has become one of the most visited museums in Brussels, welcoming 500,000 visitors during its first year of life. If you are an art fan or are curious to see Magritte's work, then we definitely recommend this museum.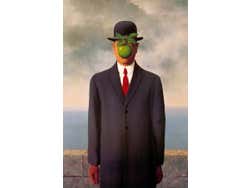 Schedule
From Tuesday to Friday: 11 am – 5 pm
Saturday and Sunday: 11 am - 6 pm
Closed: Monday, 1st January, second Thursday of January, 1st May, 1st November, 11th November and 25th December.
N.B.: On the 24th and 31st December the museum closes at 2 pm.
Price
Adults: € 10 (US$ 10.70)
Seniors (aged over 65): € 8 (US$ 8.60)
Students (aged 18 – 25): € 3 (US$ 3.20)
Young people (aged under 18) and unemployed: free entry.
Transport
Metro: Gare Centrale or Parc, lines 1 and 5.
Tram: Fort Jaco, lines 92 and 94.
Bus: Royale, lines 27, 38, 71 and 95.