Designed as the symbol and principal pavilion of the Brussels World Fair in 1958, this enormous 102 metre tall sculpture of an atom has become the image of the Belgian capital. 
The Atomium is for Brussels what the Eiffel Tower is for Paris. Landmarks that were designed to surprise and awe the inhabitants and visitors to the World Fair exhibition and that were at first severely criticised and have become the most important symbols of each country.
The Atomium was the main pavilion and the main attraction of the 1958 Brussels World's Fair.
Architecture
The Atomium was designed by the engineer André Waterkeyn and two architects André and Jean Polak. The monument represents an elementary iron crystal magnified 165 billion times. The structure stands 334 ft (102 m) tall and has nine interconnected spheres, each 59 ft (18 m) in diameter, connected to each other by tubes with escalators.
Inside
There are permanent and temporary exhibitions inside each sphere. Among the permanent exhibitions it is worth highlighting the 1958 Expo one, featuring documents, videos, photos and much more, and in the top sphere there is a restaurant.
Not worth queuing for
Although the Atomium is remarkable for the outside, it can be a little disappointing from the inside, especially if you have been waiting for a long time to enter the monument.
If you visit the area and want to go for a walk, we recommend heading to the Laeken Park where you'll be able to see some of the original pavilions of the Expo. The best are the Chinese and Japanese pavilions.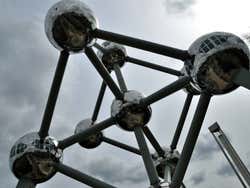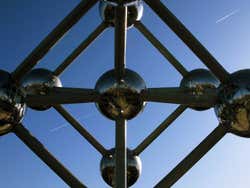 Schedule
Every day: 10 am – 6 pm
The restaurant is open until 11 pm.
Price
Adults: € 16 (US$ 17.30)
Seniors (over 65): € 14 (US$ 15.20)
Students and people with reduced mobility: € 8.50 (US$ 9.20)
Discount with a Brussels Card.
Mini Europe + Atomium    
Adultos: € 31.30 (US$ 33.90)
Mayores de 65: € 9.60 (US$ 10.40)
Children 13-17: € 24.20 (US$ 26.20)
Children under 12: € 19.80 (US$ 21.40)