The Brussels Cathedral, officially called the Cathedral of St. Michael and St. Gudula, is one of the most important monuments in Brussels. Don't let the opportunity to see it pass you by.
The Cathedral of St Michael and St Gudula (Cathédrale Saint-Michel et Sainte-Gudule) is one of the most important landmarks in Brussels.
It was built in a Gothic style at the beginning of the thirteenth century on the foundations of a Romanesque church established in the eleventh century. The actual cathedral took 300 hundred years to complete. It is perfectly conserved because between 1983 and 1989 it was completely restored.
The Cathedral was initially called the church of St Michael until, in 1047, the relics of the martyr of St Gudula were brought to the church. The saint Gudula died in the eighth century. This is when the church was called St Michael and St Gudula. Although the cathedral was built centuries ago, it was only given the cathedral status in 1962.
Interior
The interior of the Brussels Cathedral is soberer than it should be because of the constant sacking by French revolutionaries and iconoclast protestants. Despite this, the Cathedral is splendid.
To the right of the central nave is a beautiful Baroque pulpit carved out of wood from 1699, as well as the original oak confessionals from the seventeenth century. The enormous statues located on the temple's columns and some of the stained glass windows are worth highlighting.
The Cathedral's "treasure" is located in the Chapel of the Blessed Sacrament of the Miracle and kept locked away behind iron forged doors from the eighteenth century. Inside numerous liturgical and religious are kept, like tunics, crosses, relics, chalices, several sculptures and altarpieces, while in the chapel there are several stained glass windows dating from 1540.
Another stunning part of the Cathedral is the imposing organ designed by Grenzing with over 4.000 pipes and 4 keyboards.
Important visit
The Cathedral of St Michael and St Gudula is one of the most important visits in Brussels given its status as the main Catholic church in Belgium. It is very close to the city centre and is open from early in the morning until late in the evening, making it very easy to visit.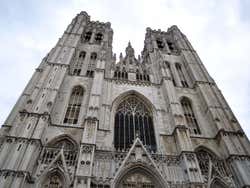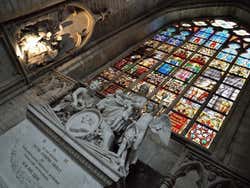 Schedule
From Monday to Friday: 7 am – 6 pm
Saturday: 8:30 am to 6 pm (you can visit until 3:30 pm)
Sunday: 8:30 am to 6 pm (you can visit until 2 pm)
Price
Free entry
The treasure of the Cathedral: € 2 (US$ 2.20)
Crypt: € 3 (US$ 3.20)
Transport
Metro: Gare Centrale and Parc, lines 1 and 5.
Tram: Parc, lines 92 and 94.
Bus: Parc, lines 29, 63, 65 and 66.