Jeanneke Pis is the female version of the Manneken Pis, the most famous statue in Brussels. This cheeky little girl with two ponytails is less known than her older brother and is a lot more modern.
The little girl is made of bronze and squats and smiles while she urinates into a grey limestone base. The statue is located behind iron bars to make sure she is not stolen like the Manneken Pis was in his day. It was designed in 1987, commissioned by the owner of a nearby restaurant.
Jeanneke Pis is found near rue des Bouchers, in the small cul-de-sac Impasse de la Fidélité, practically the same distance away from the Grand Place as the Manneken Pis but in the opposite direction.
To compare
We recommend visiting the little Jeanneke Pis even if it is just to compare it to the Manneken Pis. Although the little girl statue is a lot more modern and doesn't have the history and legends surrounding it like the boy, the statues are the same size and are both very well sculpted.
Very close to the girl is one of the most famous bars in Brussels called Delirium Tremens, known for its long and varied list of beer, with over 2,000 different brands.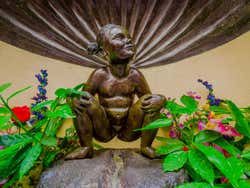 Transport
Metro: Bourse, lines 3 and 4.
Tram: Bourse, lines 31, 32 and 33.
Bus: Bourse, lines 48 and 95; Gare Centrale, líneas 38, 65, 71 and 86.